News - 2018
A festival of swimming
Dec. 21, 2018
Last Saturday a swimming festival was held in Ljubljana swimming pool Tivoli. It was organized by ŠD Riba and Kuponko. 100 children were invited to spend the Saturday afternoon with us. We are glad that the parents decided to bring their children for an hour long swimming event despite the cold December day. Everybody practiced elementary swimming skills and the older children were even introduced to real swimming techniques. The playful swimming teachers made sure that there was also enough play time during the festival so that the future swimmers could enjoy and have fun. Big smiles on the childrens faces is all the proof we needed to know that the day was a huge success. We believe that it was an uforgetable experience for the children as well.
Here are some pics for you to enjoy. :-)
Having fun is important!
Dec. 11, 2018
As you can see in all the posted videos, there are many things we can do to teach kids and youngsters basic swimming skills, water safety and a love for all things aquatic. But the most important things is they enjoy and have fun!
Like Einstein said: "Having fun is the best way to learning."
Here are some captured moment of children from Romania and Slovenia having fun during the swimming lesson.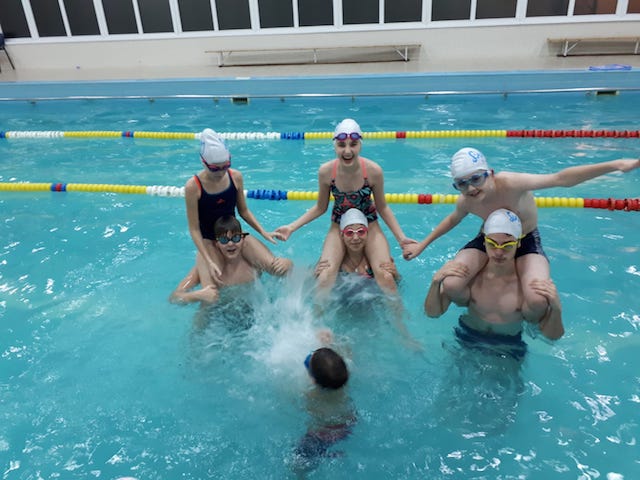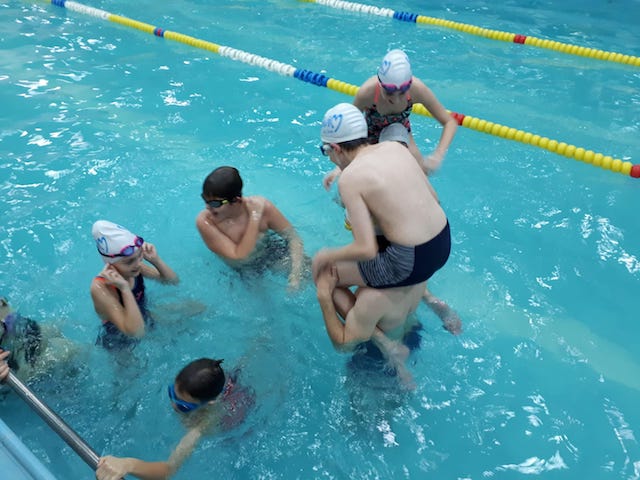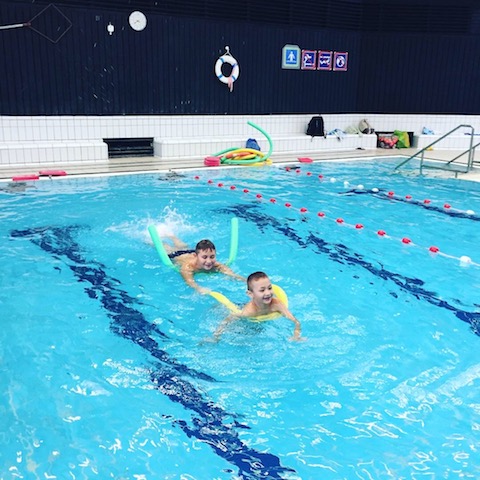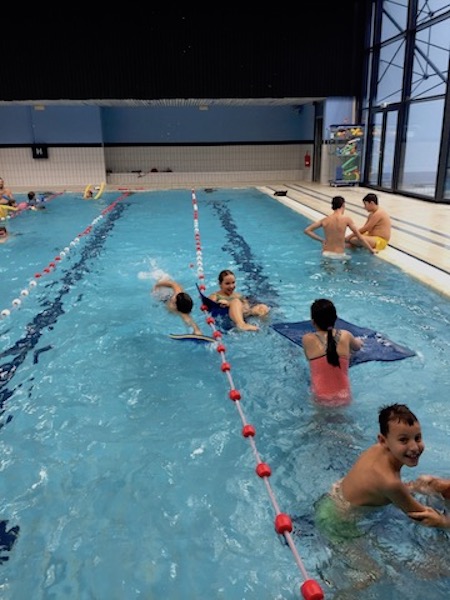 Swimming lessons: Step 4
Dec. 11, 2018
And here it is, the fourth and final step to basic swimming lessons. As the steps progress, they become more and more technical, so keep in mind that you have to follow the correct way of doing the exercises, because if the kids learn the moves incorrectly (for instance breaststroke kicks), it takes a long time to unlearn this behaviour and teach the correct way of doing things.
Swimming lessons: Step 3
Dec. 7, 2018
So here we are on the third step. Is it getting easier yet? By now you have probably noticed you have to repeat the same exercises many times before the child will do each exercise the way they are supposed to be done. Don't be afraid to make up your own similar exercises to practice the same thing and to keep praising your child whenever they succeed in anything they attempt. This is the last step before we can really start teaching swimming. But also remember, these exercises can always be switched in their order, some kids will learn hot to properly swim breaststroke kicks before they will fully submerge their head, so don't worry, they all get there in the end. :-)
Swimming lessons: Step 2
Dec. 3, 2018
So,
you have already tackled the dreaded submerging of the head under water and blowing bubbles. Congratulations! :-) Maybe there were some tears and resistance or maybe it went very smoothly. But this step is the most important one and without this loss of fear of water, it is very hard to start teaching the other things.
This is the second step. And always remember, just have fun!
Swimming lessons: How to start
Nov. 27, 2018
Hey guys,
did you ever want to teach your kids swimming but had no clue where and how to start? Have no fear. 😉
We've prepared a practical guide for beginners.
Here is the first video. Enjoy and we wish you lots of fun with your kids!
the Swim to Live! guidebook for teaching swimming
Nov. 19, 2018
Even though the project this year is slowly but surely coming to an end, we are not resting on our laurels yet. We are preparing something very special for parents and teachers - a guidebook for teaching swimming.
Coming soon!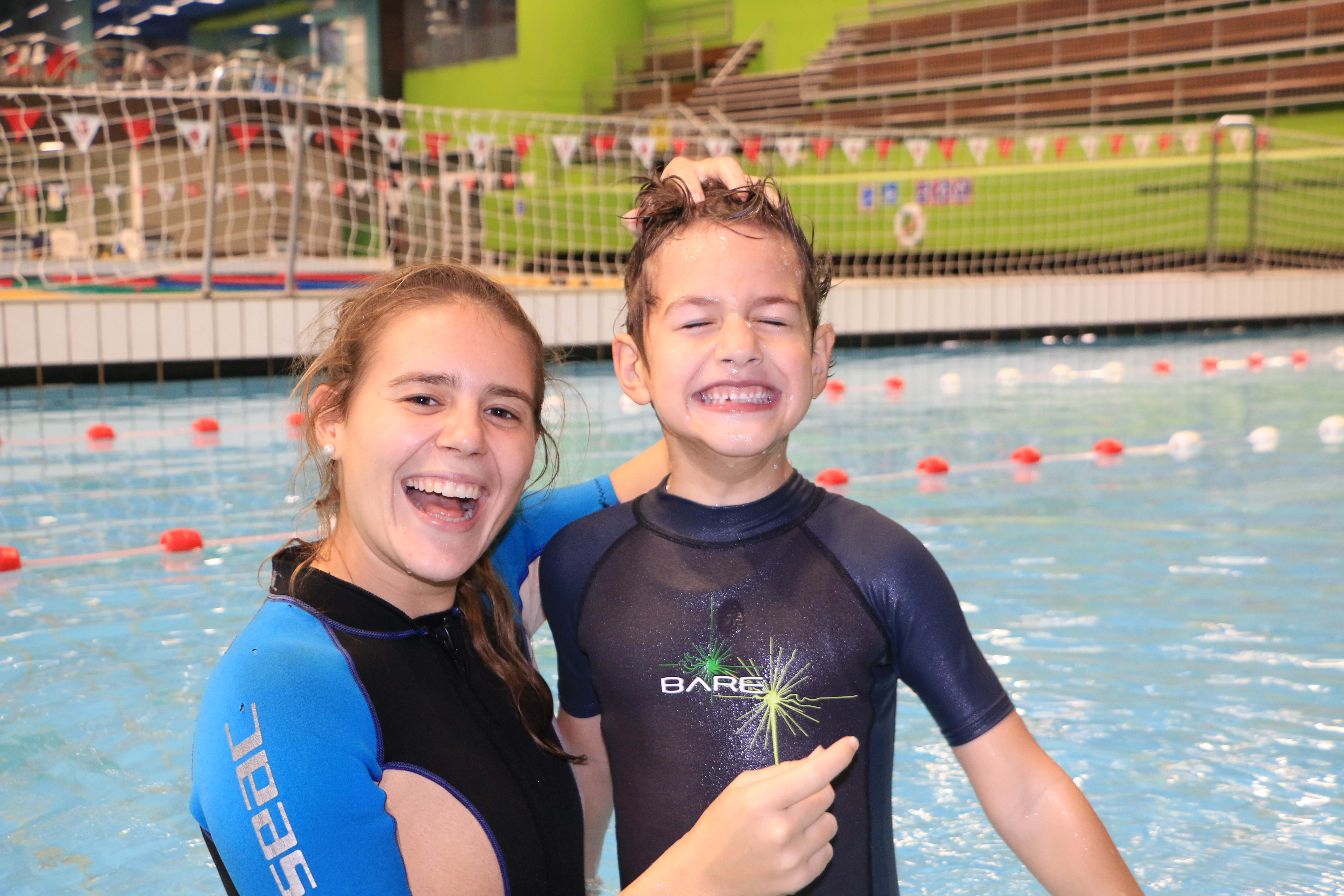 Fourth transnational meeting in Italy
Oct. 23, 2018
Last week we had the pleasure of visiting the south of the italian boot. We did some mindful swimming, kayaking, we visited a local cave, ate some ice cream and tried fried pizza. Our youngsters did the final tests, to see if there was any change during the project - mental and/or physical. They all wish to continue with the lessons in the future and want to remain on our Swim to Live journey. We made a lot of new friends this year and we can't wait to make new ones in the new project in 2019.
Here are just some captured moments of our time in Italy. For more photos visit our FB page: https://www.facebook.com/SwimToLive.org/
ENJOY! :-)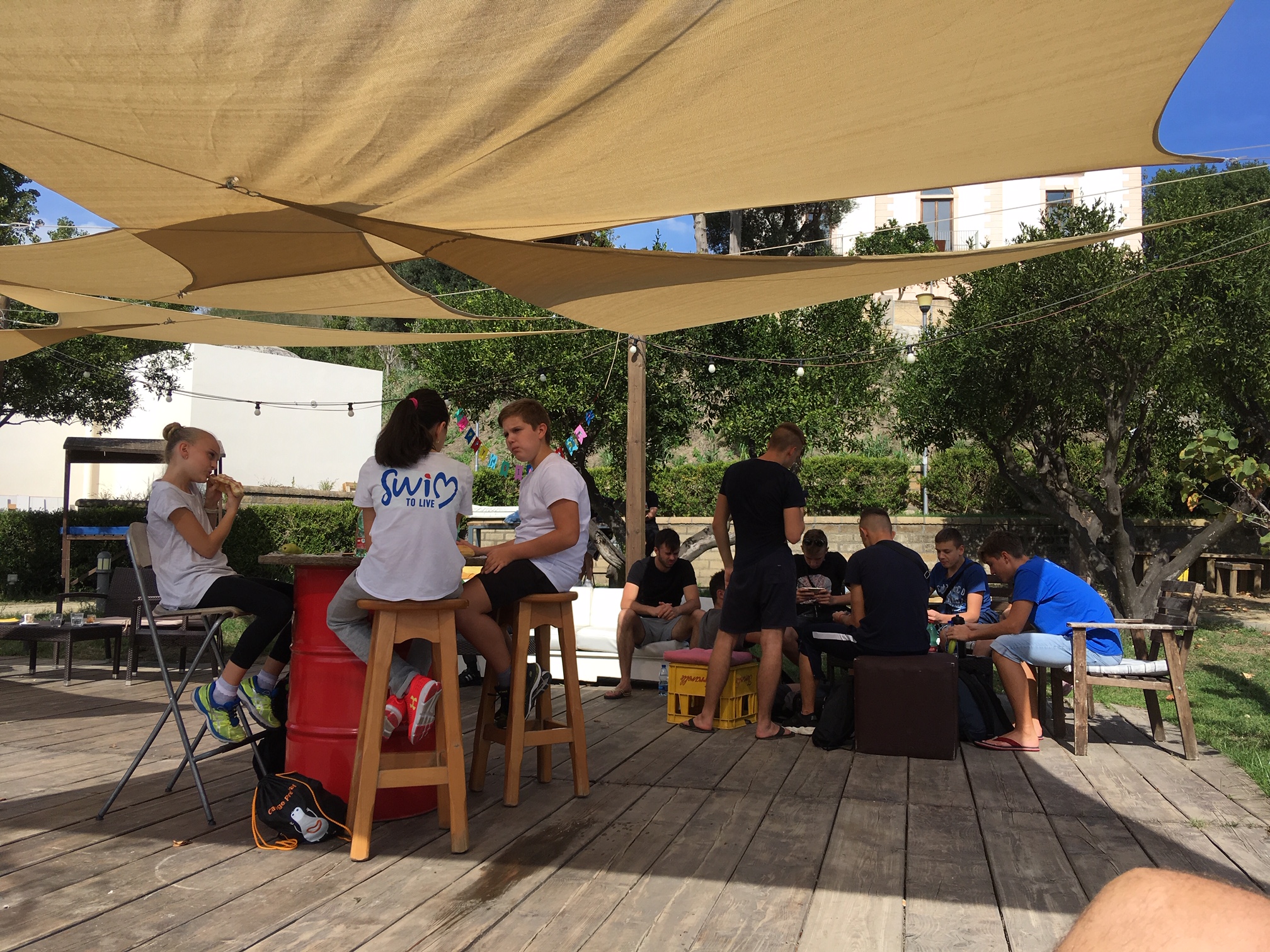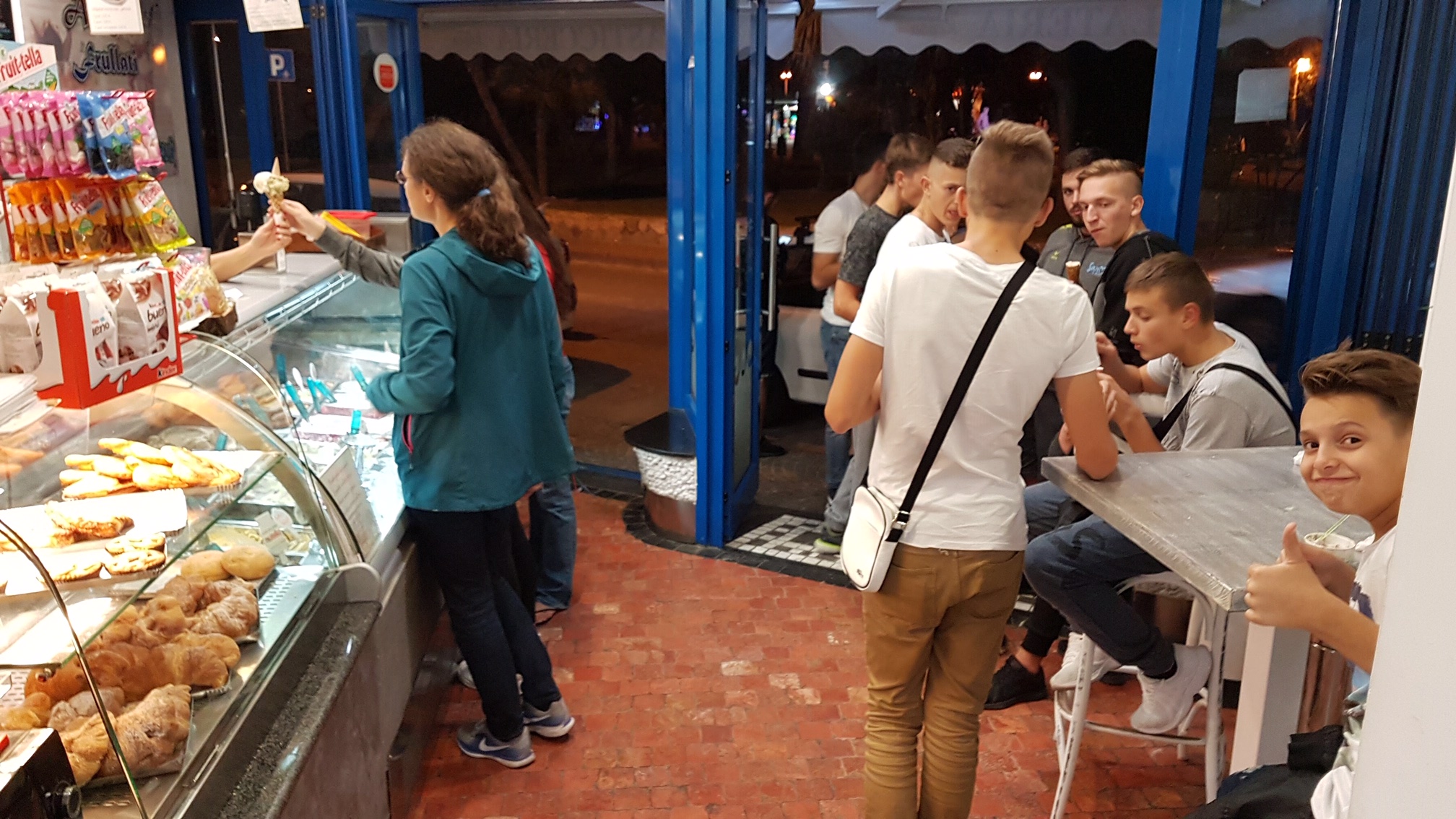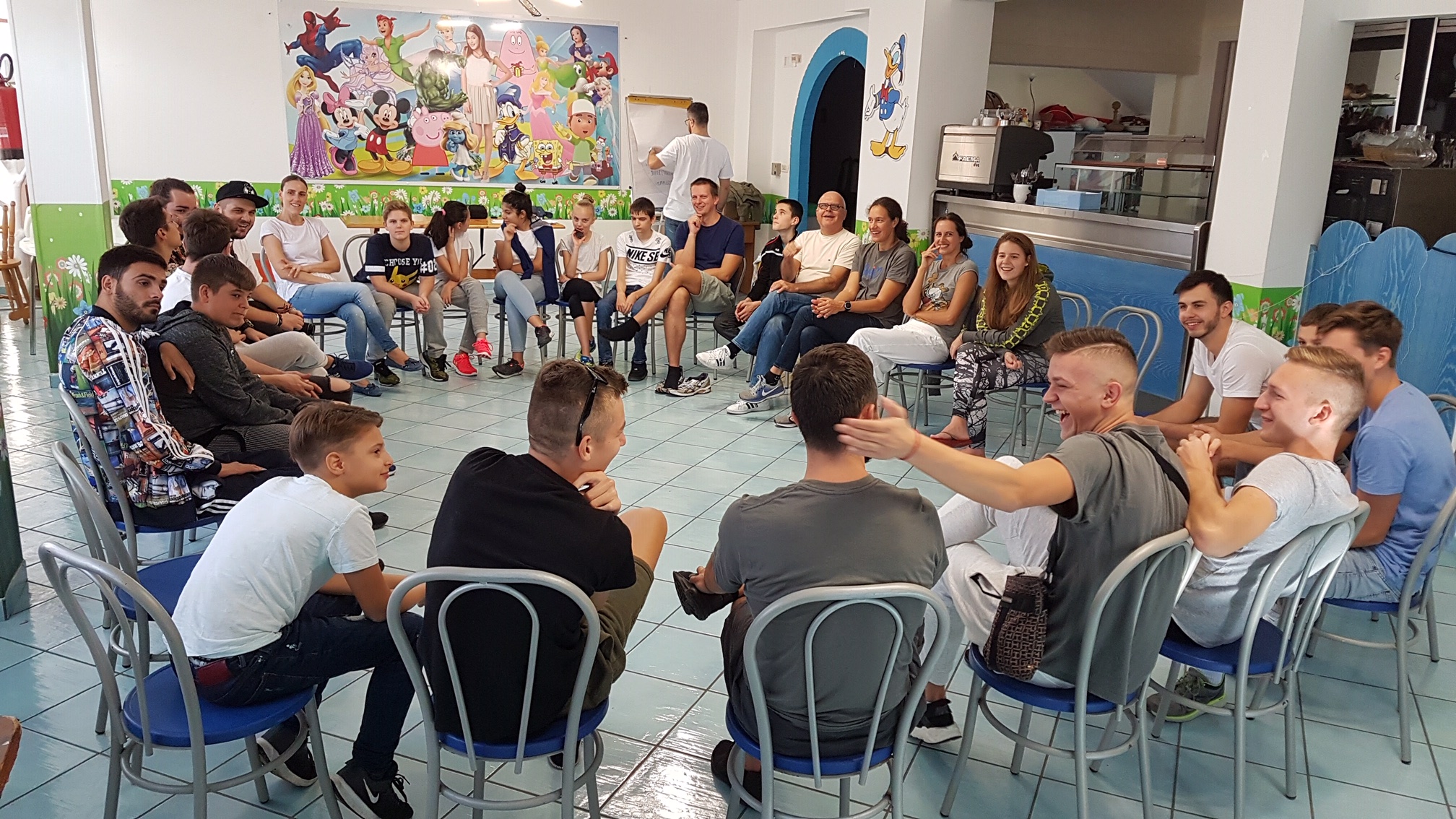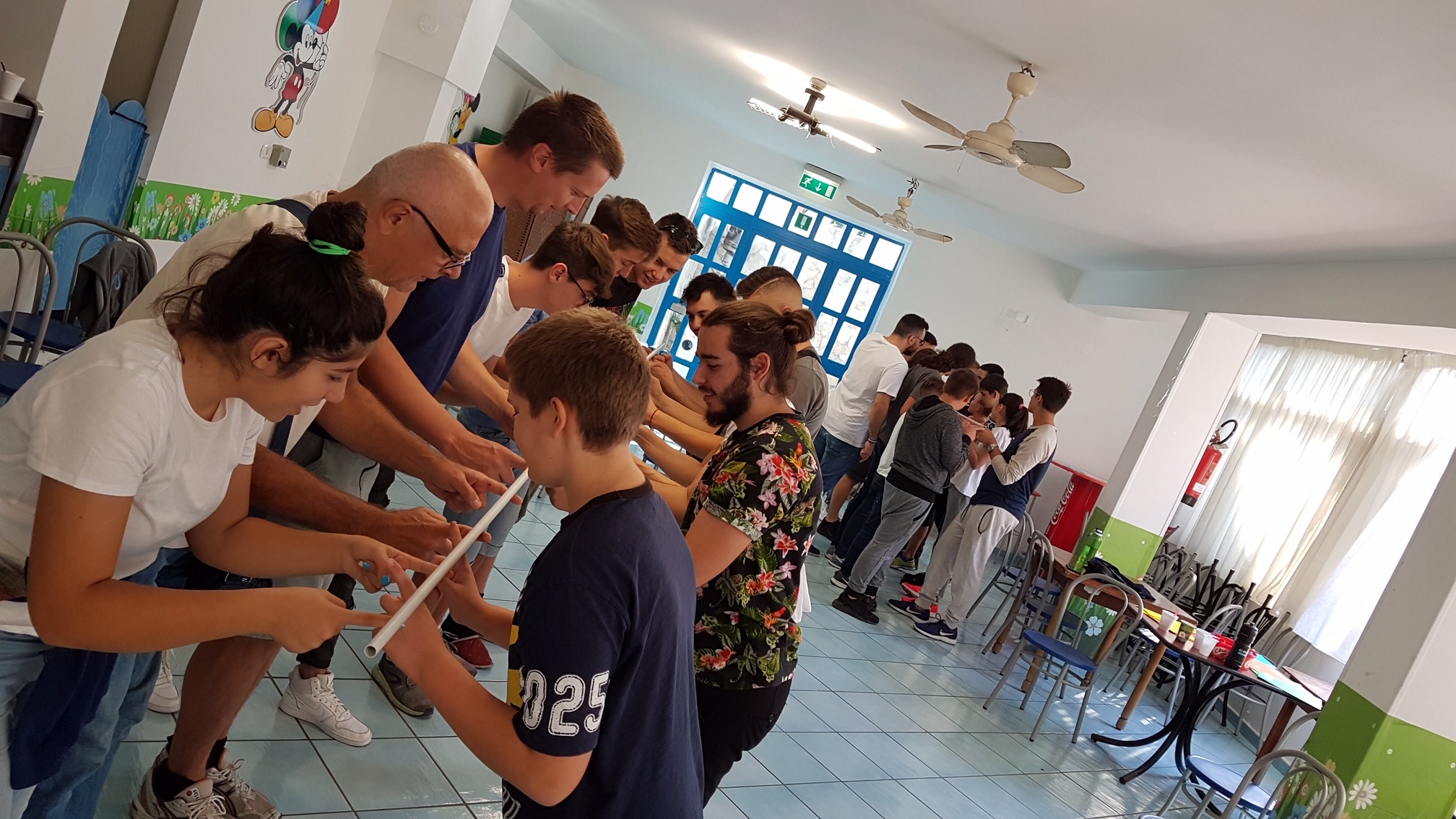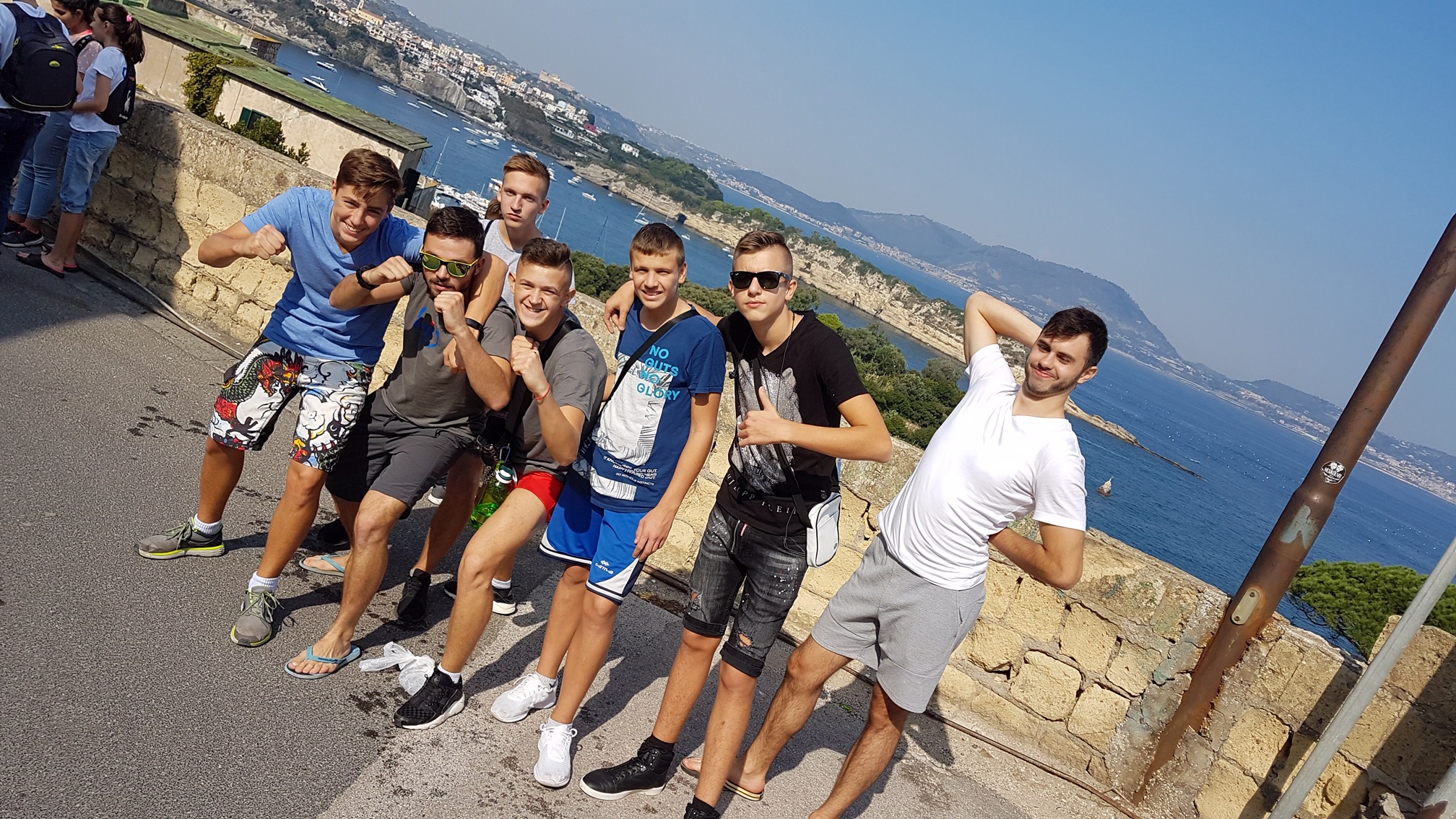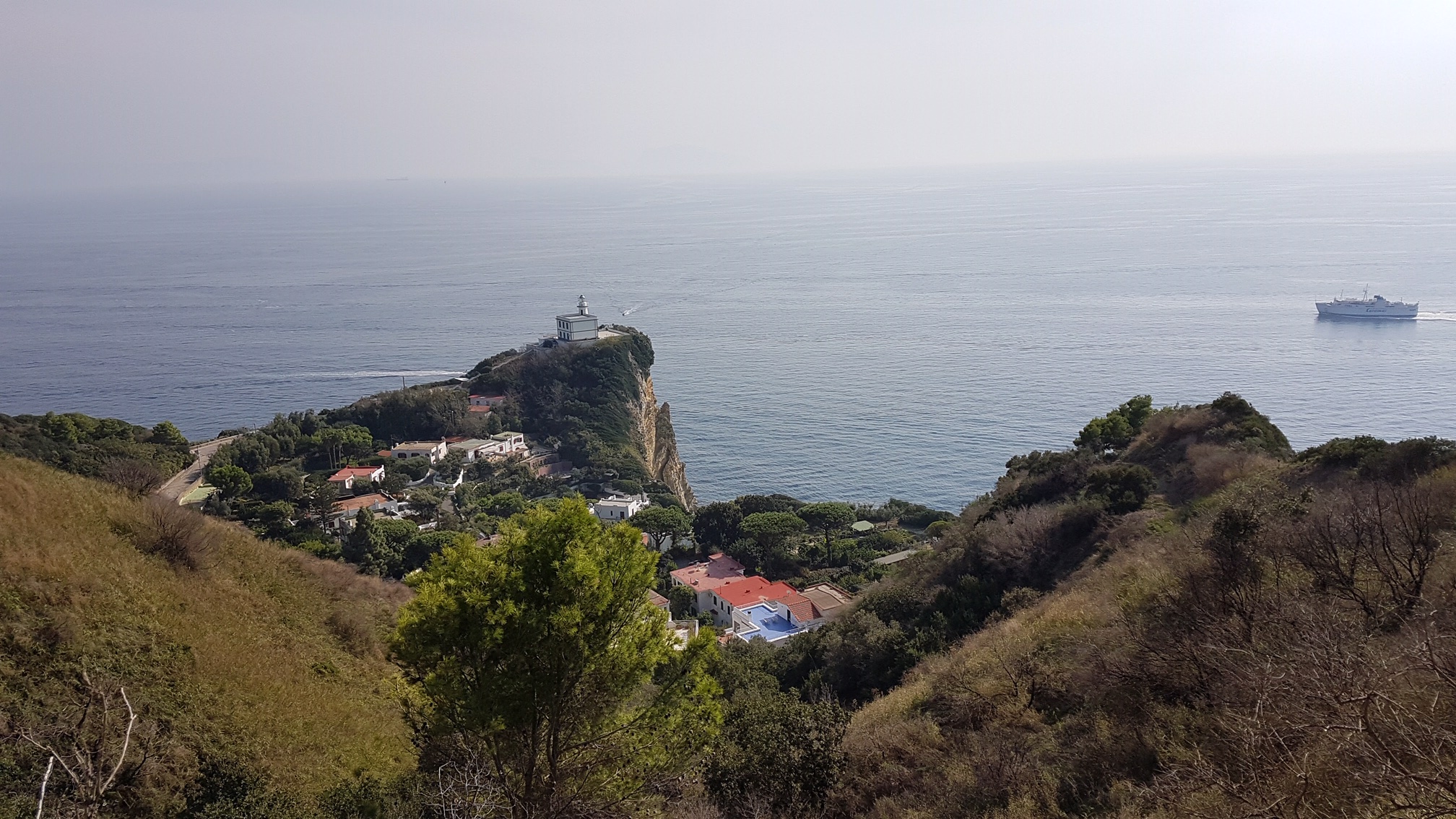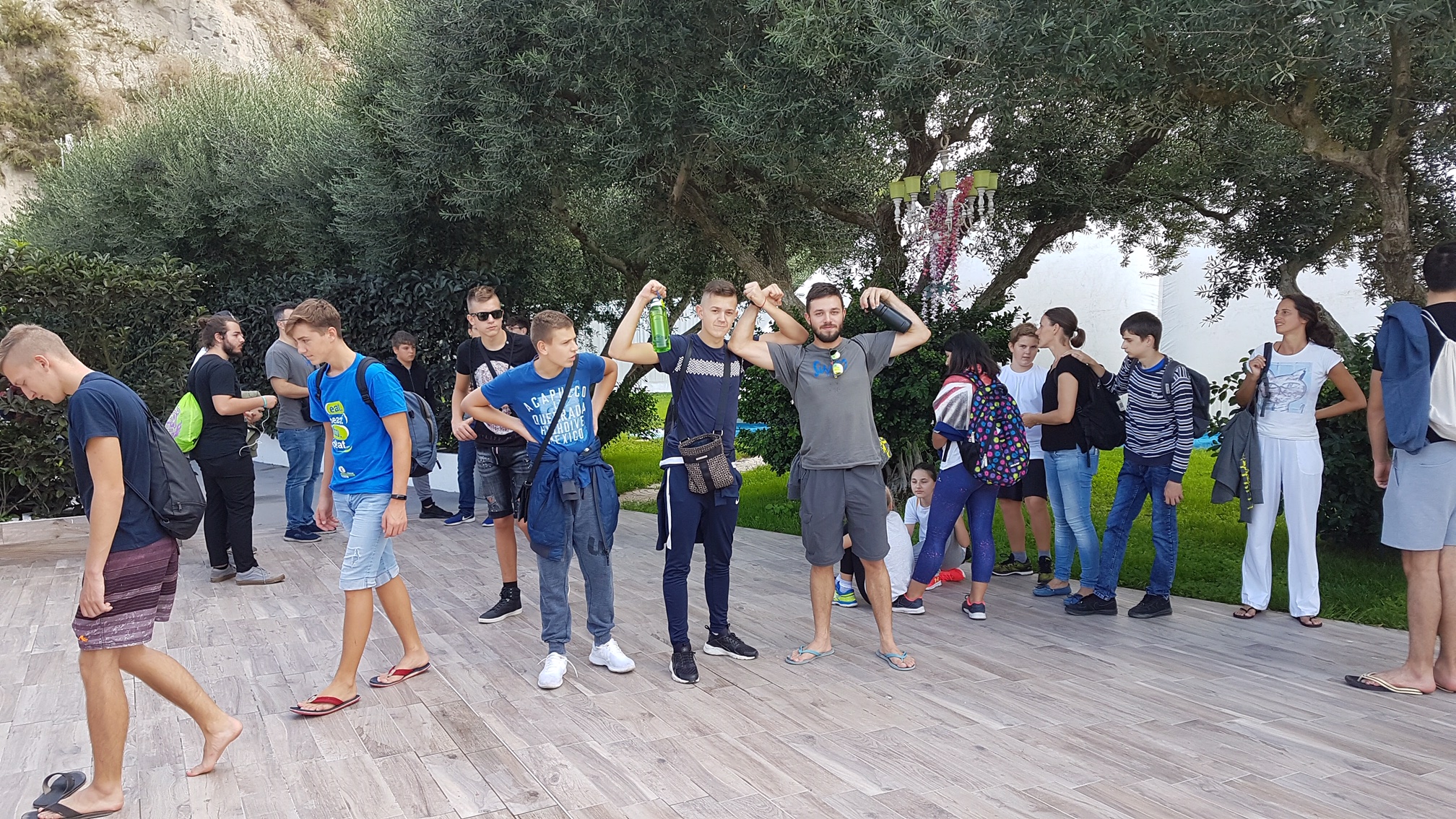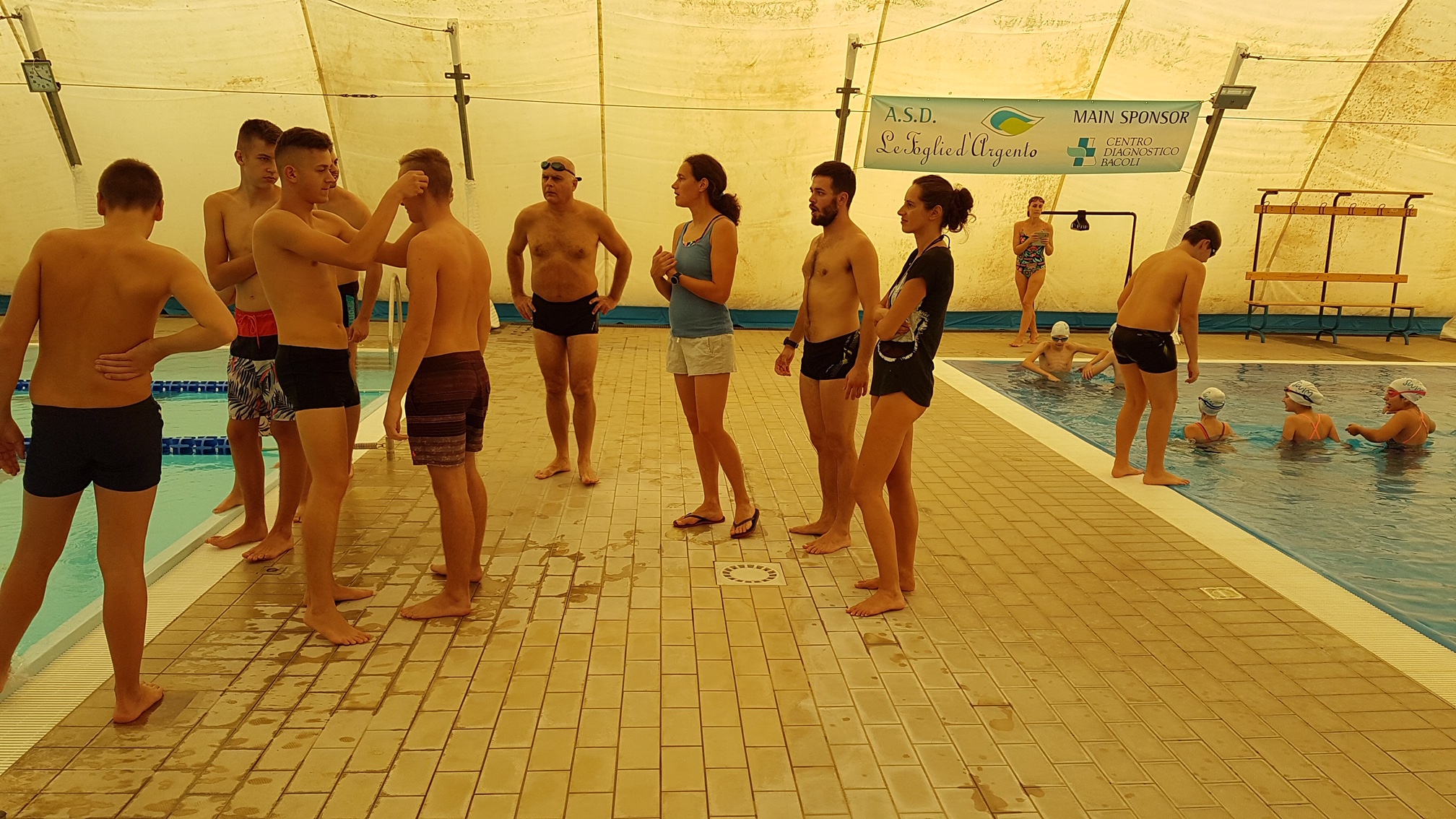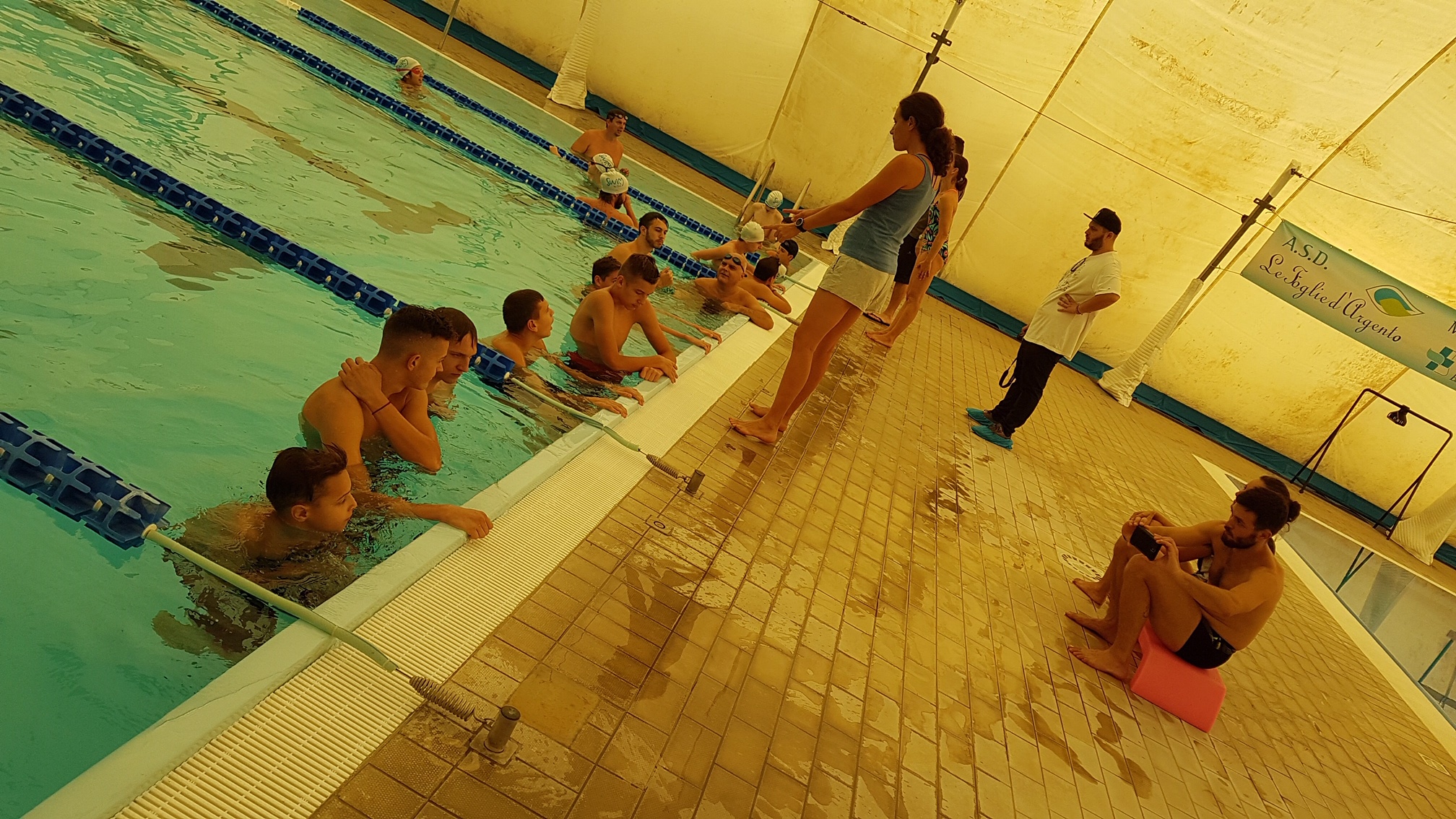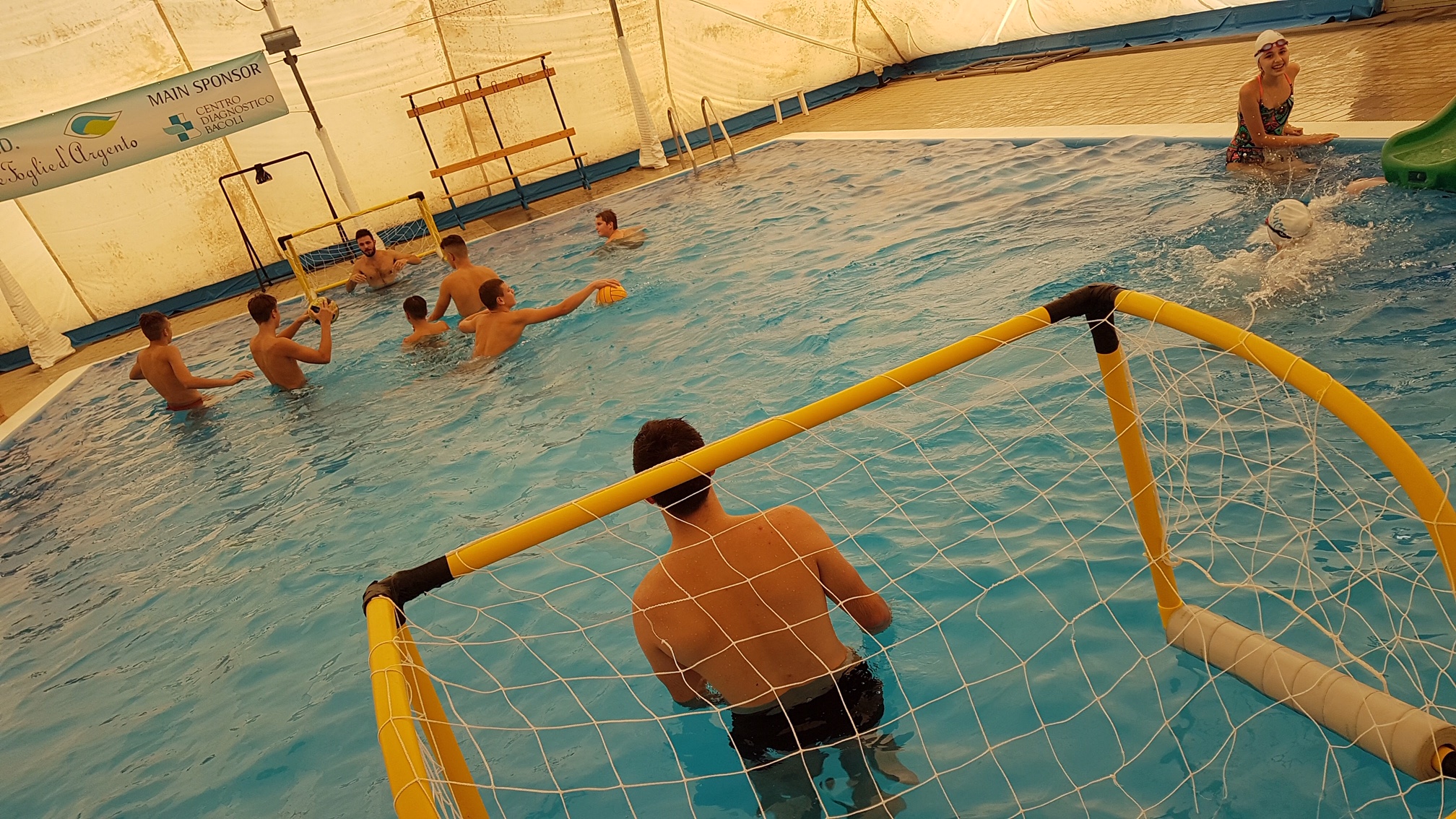 Motivation in sport training
Oct. 9, 2018
Are you an instructor in swimming or in a different sport? Have you ever had trouble motivating your athletes and wondered how to go about it better? Look no further. :-)
Check out this link by our sport psychologist dr. Tanja Kajtna.
Good Practices In Teaching Swimming To Different Groups Of People
Oct. 8, 2018
Are you having trouble preparing good workouts for different abled people in your group of swimmers? Don't worry, check out this seminar by our expert in training disabled swimmers, Jana Čander, who can show you some tricks of the trade.
ENJOY! :-)
Teaching flip turns to beginners
Oct. 5, 2018
So, most of us have had to deal with teaching a flip turn to swimmers. Some people have no problems with this, some say it makes them sick, some don't even know how to do a turn on dry land, so you have to determine who is a good candidate for teaching this technique.This is a good exercise for the beginning steps in teaching a flip turn. It can be done in deep or shallow water.
Aaaaaand we're back!
Sept. 27, 2018
Say goodbye to the sea and hello to the swimming pool.
🎉👑🐋🐟🐳🐠
🏊🏼‍🐬⭐️❤️
#swili#mindfulness#stayactive#swimming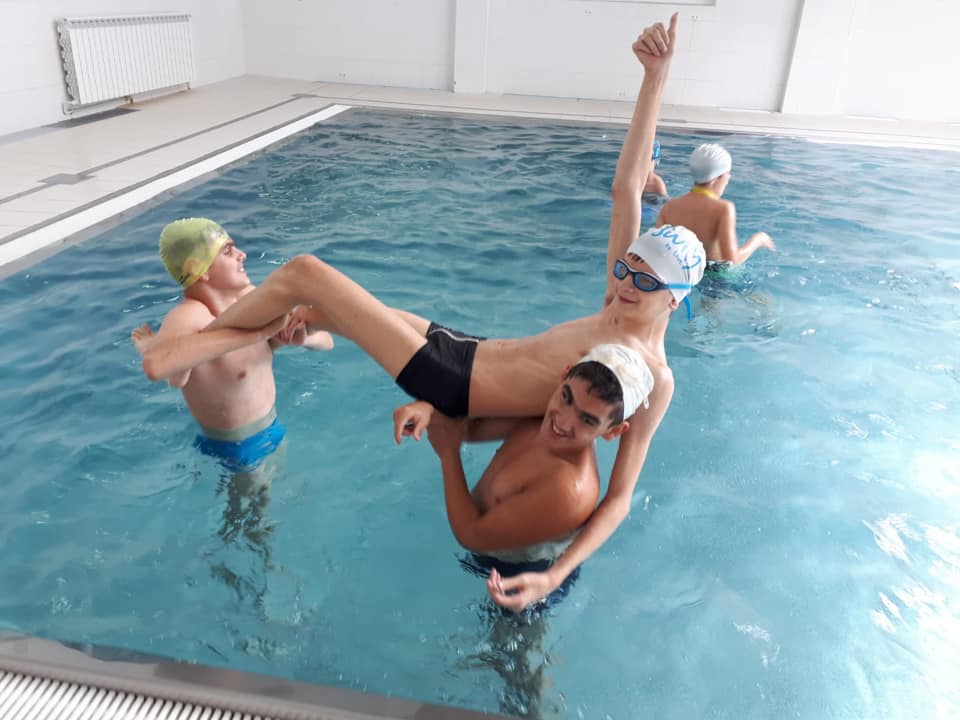 Swim to Live 3 has been selected for co-founding!
Sept. 23, 2018
After a long hot summer break, we received some wonderful news:
Swili 3: Masters edition has received co-founding by the Erasmus+ Sports team at EACEA European Commission and we could not be happier! :-)
This time we will combine swimming, dry land training and mindfulness lessons for active seniors, who will become active lifestyle ambassadors for the ageing population.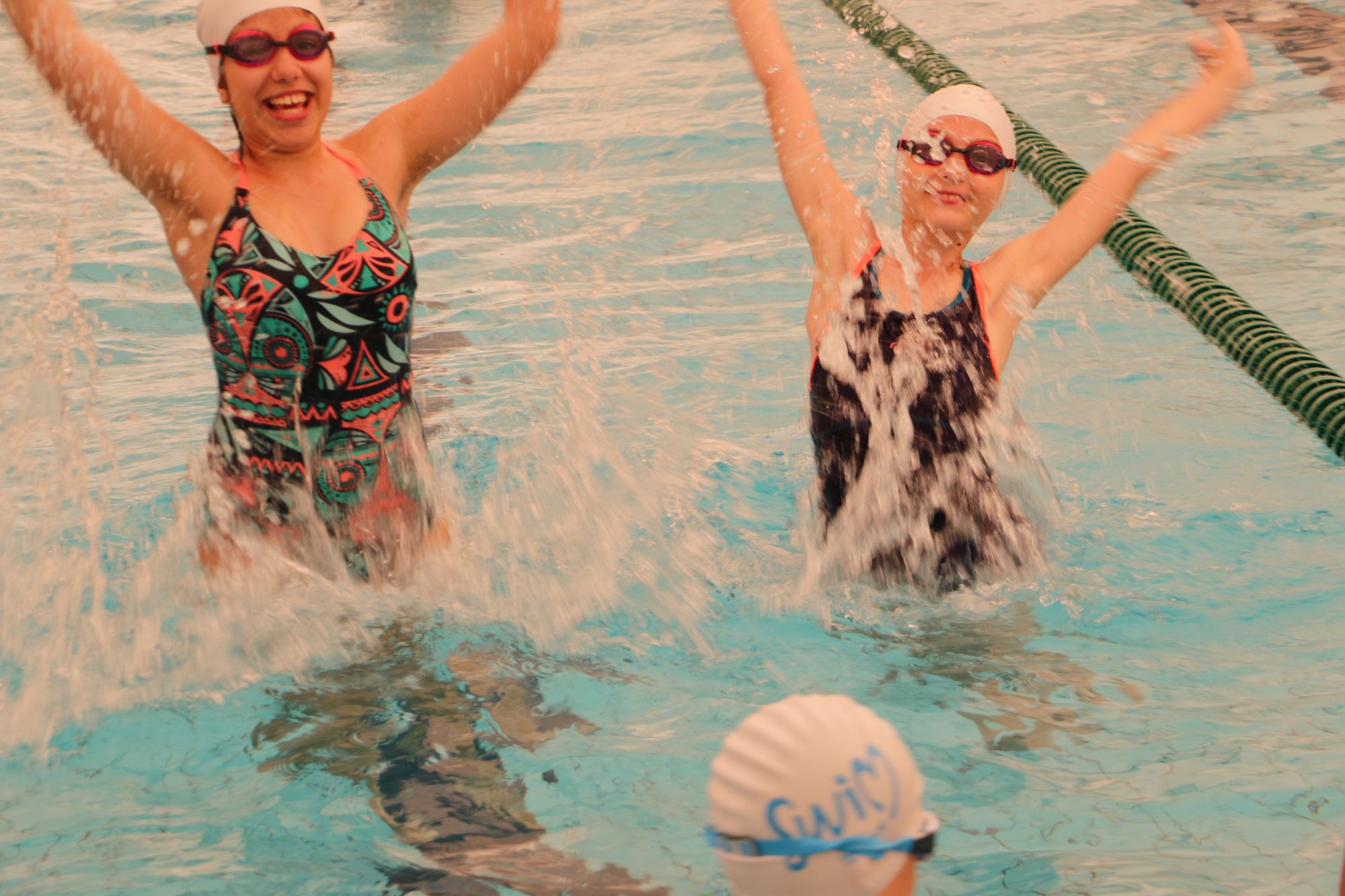 Third transnational meeting in beautiful Romania - recap
June 24, 2018
Hey guys,
before we disappear for a little while over the summer, we just want you to see some of the highlights of our trip to Romania. If you ever want to visit a historically rich country with an interesting and diverse cuisine and a beautiful countryside with some very impressive mountains, which is also very affordable, you owe it to yourself to visit the lovely Transylvania region in Romania.
Check out some photos from our trip.
Check out the short video of our second transnational meeting and mindfulness seminar
May 22, 2018
Woohoo! :-)
Here it is!
ENJOY!
Check out some pics from the second transnational meeting and mindfulness seminar
May 17, 2018
Here it is,
what you all have been waiting for! :-)
Some pics from last weekend, when we hosted a wonderful group of youngsters and their mentors from 3 different countries.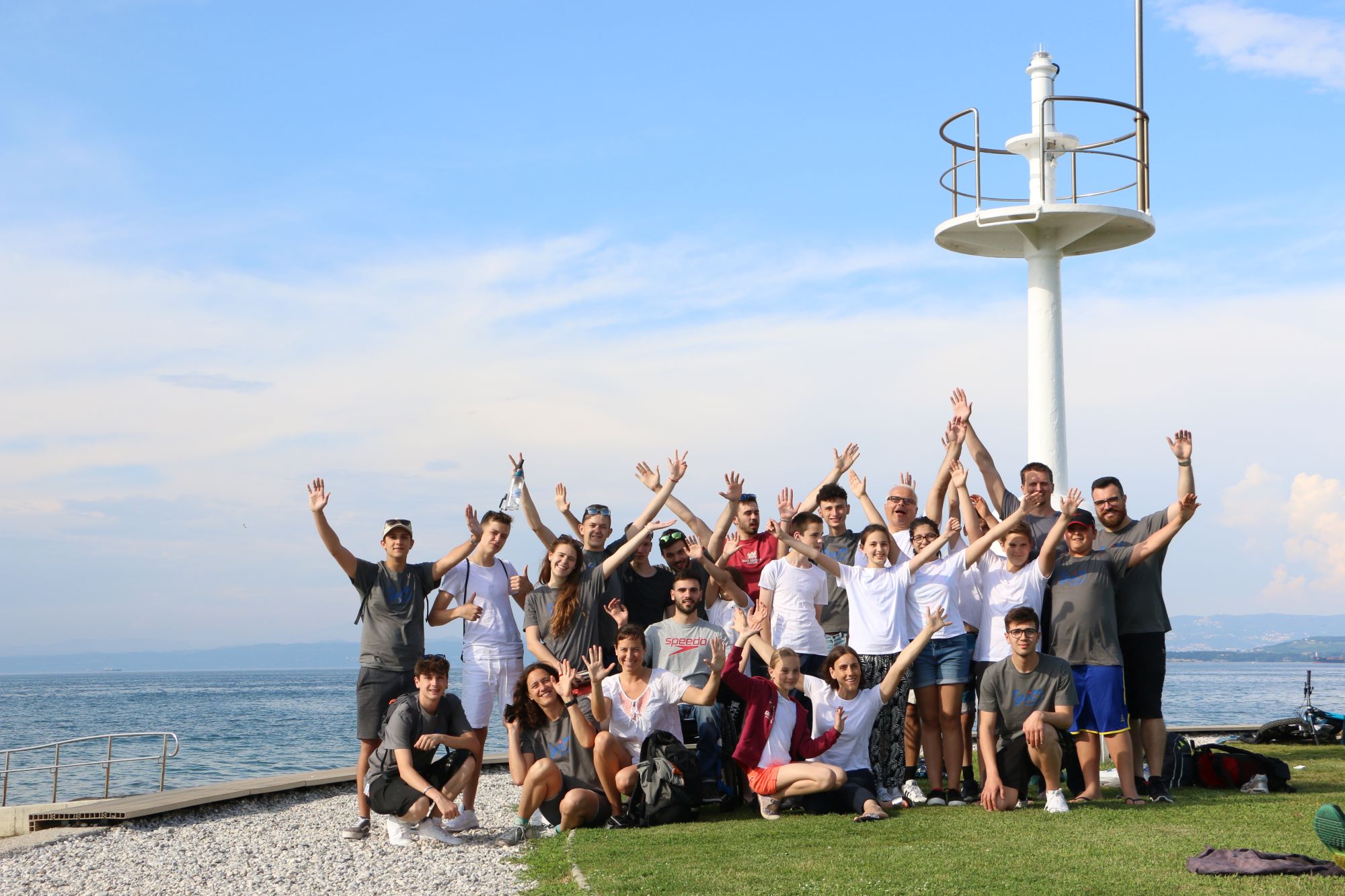 Swim to Live: Mindfulness seminar
May 7, 2018
Hey guys,
we are extremely pleased to show you our new webinar.
The topic is Mindfulness and it was taken during the first transnational meeting in Slovenia, where the three partner countries met for the first time, to kick-off this year's project.
This will be especially helpful, if you want to learn some great examples on how to teach mindfulness to children and youngsters.
Enjoy!
Meanwhile in Italy...
March 26, 2018
Some pics from the Italian swimming pool in Naples.
Meanwhile in Slovenija...
March 21, 2018
Check out this short video of what's been going on in Slovenia.
Are you struggling with teaching visually impaired youngsters?
March 19, 2018
Look no further.
Here are some examples of a hands on approach.
Visually impaired youngsters from Cluj - Napoca, are loving the feel of the water.
March 14, 2018
Meeting the parents
March 13, 2018
This year, we are teaching underaged kids and youngsters, so the involvement of their parents is crucial for our success.
Here is the Slovenian meeting, captured on film.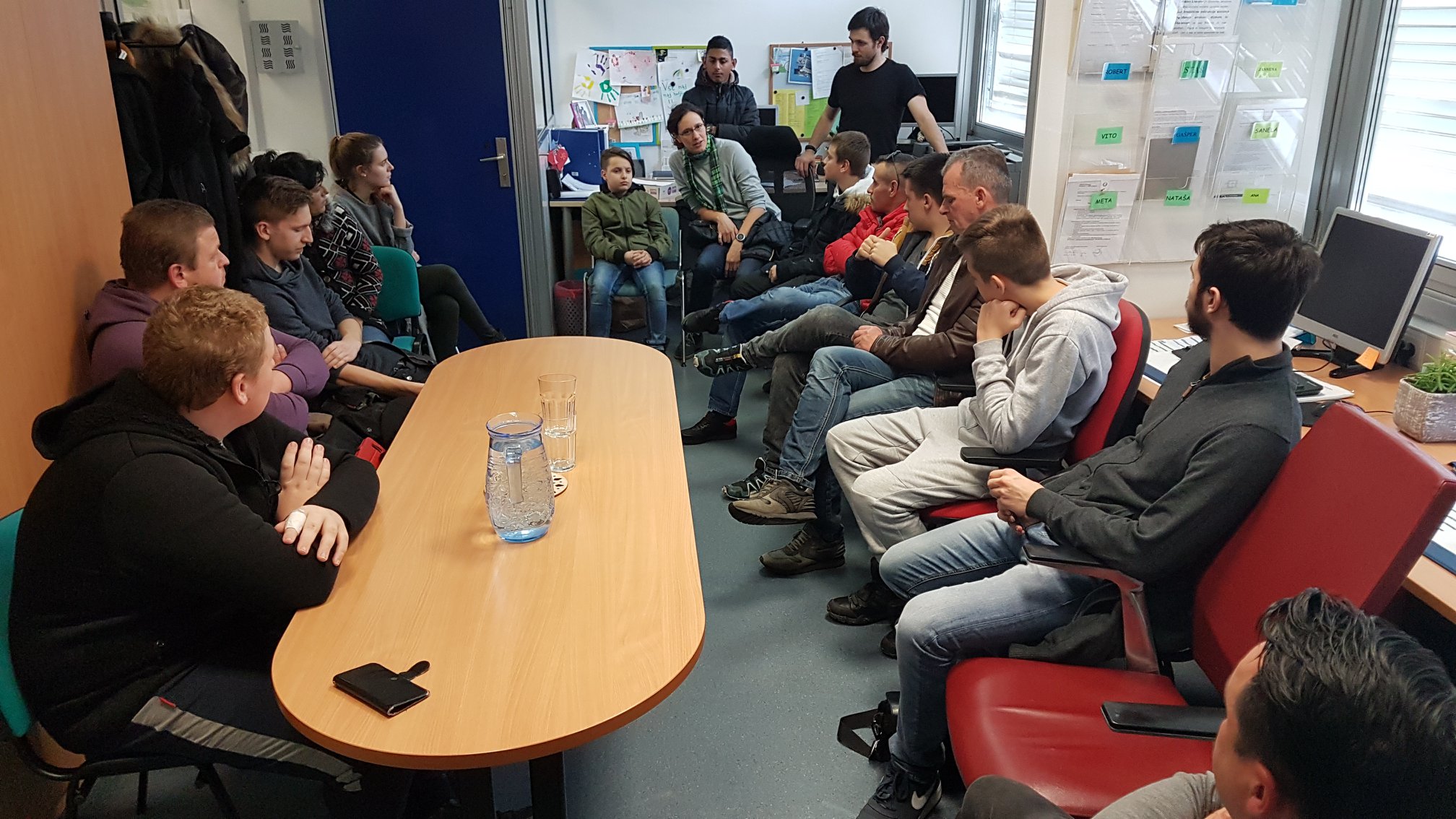 Swimming has started!
March 8, 2018
After a month of being mindful, we finally started swimming with our youngsters.
Go Romania!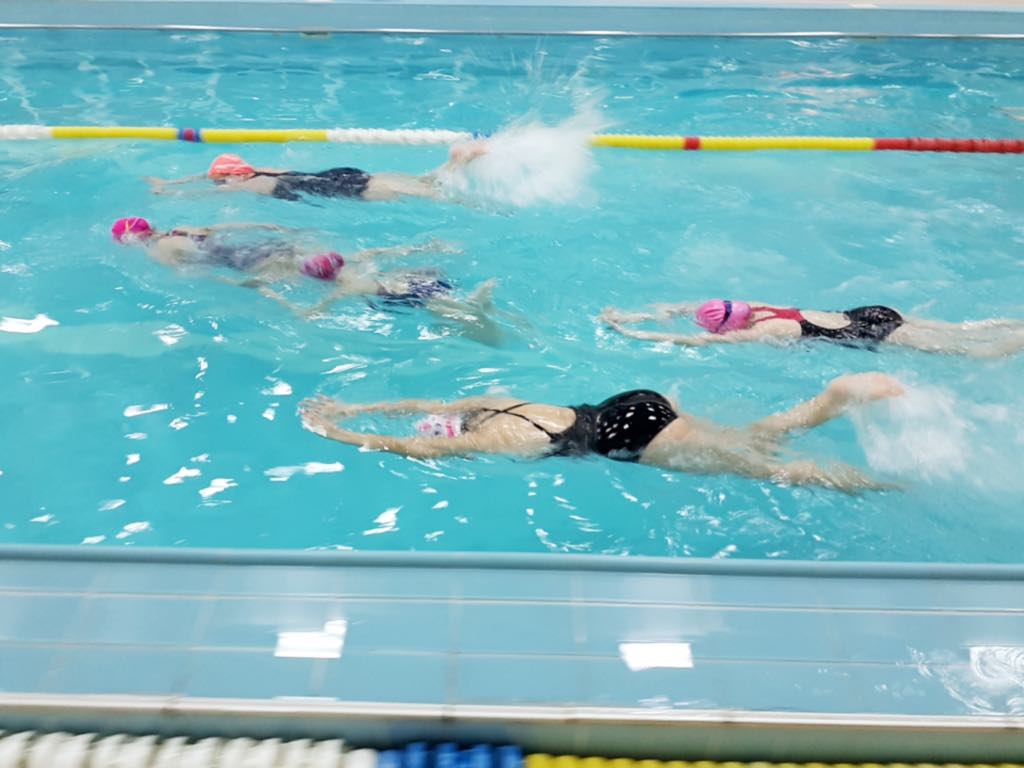 The First transnational meeting in Slovenia
Jan. 29, 2018
And we're off! :-)
The first thing on the menu was a weekend with our swimming instructors and youth workers with the plan to get to know each other or to improve our bond from last year, to learn about mindfulness and to make a plan for the whole year.
It was an extremely fun and productive weekend.
Here are some pics for you to enjoy. :-)
Swili 2 in da house :-)
Jan. 19, 2018
With the new year we start the new project with new swimmers and a new partner.
We are very excited!
Join us on our journey here on the web portal and keep posted for fresh updates.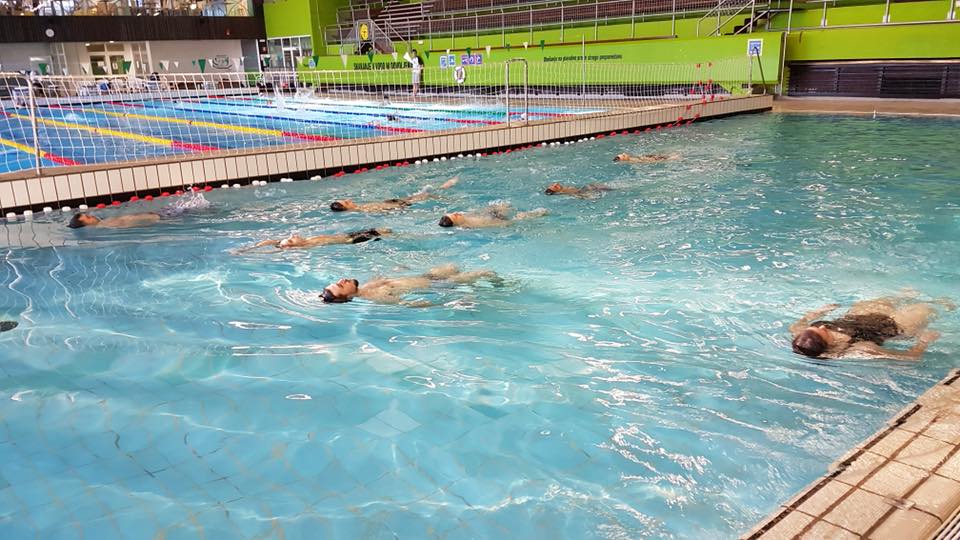 Happy new year and welcome Swili 2!
Jan. 1, 2018
So with the beginning of the new year our project is coming to an end.
We have succeded to deliver most if not all of our promises and managed to add certain developments we could not have imagined while we were writing the proposal for the project.
Right now we are in the process of writing the final report, but we have been also kickstarting the new project for 2018 - Swili 2.
This time we will be combining swimming lessons with mindfulness for underprivileged youngsters from 3 countries - Romania, Italy and Slovenia. We will also organise four transnational meetings in the three partner countries.
The first one is in less than one month and we can't wait!
All the best to all of you in the new year! :-)